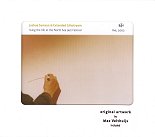 live 2002
AotM 2002-06

Joshua Samson percussion
Marc van Roon piano
Tony Overwater bas
Maarten Ornstein saxophone & grinata
Angelo Verploegen trumpet & flugelhorn
Art in Rhythm percussion & vocal group piano
Gijs van Straalen musical director percussion group



Joshua Samson & Extended Lifestream: live, 2002
living the life at the North Sea Jazz Festival

Recorded live 14 July 2002 at the North Sea Jazz festival, the Hague, the Netherlands.

What we strived for is to combine "the Arts" and bring together inspiring people in order to create a wonderful evening for us all. It turned out to be a memorable event and a musical highlight in my career.
Joshua Samson

This second life album in the Apple on the Moon catalogue is one of a kind.


tracklist & ordering
samples